ACCRA ACADEMY
Home Aburi Girls Accra Academy Armed Forces Yaa Asantewaa St. Augustine's Chemu Sec West Africa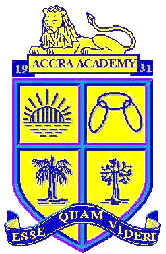 PARTICIPATING STUDENTS
Daniel Brown, form 2
Johnson E Chukwuma, form 2
WorLD AIDS PROJECT 2001, 1ST GOAL ACTIVITIES

1. WHAT IS HIV?
HIV is the acronym for the Human Immunodeficiency Virus.

WHAT IS AIDS? AIDS is the acronym for Acquired Immune deficiency Syndrome.

WHAT IS THE DIFFERENCE BETWEEN THE TWO?

AIDS is caused by the human immunodeficiency virus (HIV). When a person becomes HIV infected, the virus destroys
the cells of his body's immune system and continuously damages the body's ability to fight infections or diseases. When this happens the person is said to have AIDS since his body cannot fight infections like coughing, fever and headaches. AIDS can be seen as the most developed form of HIV with the infected person having certain symptoms like vision loss, severe and persistent diarrhea and painful swallowing, skin rashes, persistent coughing, fever etc.

HOW LONG CAN SOMEONE HAVE HIV BEFORE DEVELOPING AIDS?

For children with HIV, it is 2 years and 10 years for adults.

HOW LONG DO MOST PEOPLE HAVE AIDS BEFORE THEY DIE?

This depends on the infected person's immune system but on the average, it is 2 years and 3 years maximum.

2. HOW IS HIV TRANSMITTED?
HIV is transmitted through:
(a) unprotected sexual contact with an infected person or partner. The virus can enter the body through the
penis, the the vagina, vulva, mouth or rectum during sex act.

(b) Mother- to - child transmission during pregnancy or after birth through breast feeding.

(c) Transfusion of contaminated blood

(e) Sharing of needles or syringe and razor blades contaminated with blood from someone infected with the
virus.

HOW IS IT NOT TRANSMITTED?
(a) By talking with AIDS infected people;

(b) By sharing the same bed, clothes, towels:

(c) By sharing food and food utensils

(d) By shaking hands or embracing

(e) By sharing toilets seats or telephones

(f) From mosquito bites

WHAT ARE SOME OF THE MYTHS ABOUT HOW IT IS SPREAD?

There is the belief that HIV is spread as a result of witchcraft, curse from our gods for certain wrong actions
and punishment from God for sins committed by the victim.

There is also the myth that HIV is spread through sexual contact with monkeys

3. HOW CAN THE TRANSMISSION OF HIV BE PREVENTED?

i. By using condoms;
ii. By abstaining from premarital sex
iii. By sticking to one sexual and faithful partner;
iv. By seeking medical advice and attention from the medical doctor if you are a pregnant mother so as to reduce the risk of transmission during pregnancy and after birth;
v. Women and girls should stop sharing sexual materials;
vi. People who inject drugs must always use new injection and sterilized equipment;
vii. People should stop sharing razor blades, needles or syringes;

WHAT IS 'SAFE SEX"?
'Safe sex" means making sex protected as possible. This may also mean being able to make wise choices in the selection of partners ,the use of contraception etc.

4. WHAT ARE THE HIV/AIDS STATISTICS IN YOUR COUNTRY?

*REPORTED CUMULATIVE AIDS CASES IN GHANA BY AGE AND SEX 1986 TO SEPTEMBER 2000
>
> AGE GROUP FEMALE % MALE % TOTAL %
> 0 -4 341 1.3 323 2.1 664 1.6
> 5 - 9 77 0.3 76 0.5 153 0.4
> 10 - 14 69 0.3 41 0.3 110 0.3
> 15 - 19 661 2.6 111 0.7 772 1.9
> 20 - 24 3665 14.2 722 4.7 4387 10.6
> 25 - 29 5958 23.1 2366 15.3 8324
> 20.2
> 30 - 34 5342 20.7 3497 22.6 8839
> 21.4
> 35 - 39 3929 15.3 3316 21.4 7245
> 17.6
> 40 - 44 2290 8.9 2052 13.3 4342 10.5
>
> 45 - 49 1438 5.6 1458 9.4 2896 7.0
> 50 - 54 940 3.7 724 4.7 1664 4.0
> 55 - 59 416 1.6 353 2.3 769 1.9
> 60+ 466 1.8 354 2.3 820 2.0
> TOTAL 161 0.6 83 0.5 244 0.6
> UNSTATED 25753 100 15476 100 41229
> 100
> *National AIDS Control Programme
>
AIDS cases were first repotted in Ghana in March, 1986.Ending of that year, total of 42 cases had been
reported to the health authorities. The number of cases has increased steadily over the years with a cumulative total of 37,298 as at the end of 1999. As at the ending of September 2000 this number increased to 41,229 as
shown in the table above. The adult prevalence of HIV has been increasing steadily from 2.6% in 1994 to 4.0% in 1998.As at now it stands at 4.6%. 200 adults are AIDS infected everyday.

HOW DOES YOUR STATE/PROVINCE COMPARE TO THE REST OF THE COUNTRY?
ACCRA ACADEMY is located in the Greater Accra Region. Accra the capital is found within this region. Within the year 2000 the region recorded the 4th highest number of reported AIDS cases in Ghana . This alone stood at 10.5% with the Ashanti Region recording the 42.4%, the highest. There was no recorded case as at now for the northern region.

HOW DOES YOUR COUNTRY COMPARE TO THE REST OF THE WORLD?
There is low incidence of AIDS in the country as compared to countries in Southern Africa, Ivory Coast, Kenya
etc. Ghana has one of the lowest cases in West Africa. The rise of AIDS is however be coming serious.

(a) Number of people living with HIV/AIDS (all people with HIV infection whether or not they have developed
symptoms of AIDS)

YEAR NUMBER
1999 310000
2000 400000

(b) HIV prevalence rate (the percentage for adults with HIV, calculated by dividing the estimated number of
adults age 15-49 with HIV by the adult population) is 4.6%

(c) HIV prevalence rate in young people 15 - 24 (usually given as a range of percentages broken down into males and females)

Males: 0.76 - 1.96
Females: 2.40 - 4.44

(d) Number of AIDS orphans (sometimes only the cumulative total can be found - the total number of children
under age 15 having lost their mother or both parents since the epidemic began)

YEAR NUMBER
1999 126000

(e) AIDS deaths (estimated number of adults and children who died of AIDS during a specific year)

TOTAL NUMBER OF DEATHS FROM MARCH, 1986 TO 1998 = 114,000. For 1999 Estimated number of adult deaths is between 12,000 and 35000 Estimated number of children deaths is between 2,600 and 7,200

5. IS ANY OF THIS INFORMATION NEW TO YOU? IF SO WHAT? Yes, especially the AIDS statistics at question 4

WHERE DID YOU GET YOUR INFORMATION?
National AIDS Control Programme ,
UNAIDS, Ministry of Health and some AIDS websites.

DO YOU HAVE ACCESS TO ANY OF THE FOLLOWING SOURCES OF INFORMATION?

a) UNAIDS
b) WORLD HEALTH ORGANIZATION
c) YOUR COUNTRY'S GOVERNMENT
d) NON-GOVERNMENTAL ORGANISATIONS
Yes, we do.

LESSONS LEARNED FROM QUESTIONS:
We have leant a lot from this project such that it is wise of us as students to practise abstinence and avoid
premarital sex. We have also leant to show love and attention to AIDS patients . We also should stop AIDS
and love life because AIDS is real.

(d) We have also learned that HIV/AIDS can infect anyone irrespective of class, age ,position etc
Also from the statistics, we found out that we the students are at great risk. Therefore we have decided to stick to our books and also advise and educate others about the deadly disease AIDS.
THANK YOU!

2ND GOAL ACTIVITY

WHY DO WE CARE ABOUT HIV/AIDS ANYWAY?
This is because AIDS is a killer that could wipe away this generation if the needed care is not taken
we could loose our love ones It could halt general developments in our countries because the human
resource base could be annihilated to our disadvantage

WHY IS IT AN IMPORTANT ISSUE FOR OUR COMMUNITIES AND COUNTRIES?
It is an important issue in both settings because:
[ a ]AIDS could negatively affect productivity not
only for individual families but also the nation as a whole. we need people to turn the economy around
[b] Investments made on people to help in communities and national developments in the future could go waste
when the larger population is being affected with AIDS.
[c] Communities and the nation could loose so much of their budget meant
for developments on the care and treatment of AIDS patients which is
usually very expensive.

[d] Communities and the nation could experience
a high rate of orphanage and single parents who would have to be taken
care of by the said communities and the nation. This condition could
stretch the national and community budgets to our disadvantage



QUESTIONS AND ANSWERS ON ACTIVITY 2
THE IMPORTANCE OF HIV/AIDS

1. DOES HIV OR AIDS AFFECT WOMEN DIFFERENTLY THAN MEN? ARE MEN OR WOMEN MORE AT RISK FOR CATCHING HIV? IF
SO, HOW? AND WHY?
[ a] AIDS is no respecter of persons and does
not discriminate on any grounds. Both sexes are at equal risk The reasons are that both sexes are potential carriers of the AIDS./HIV. Both sexes are equally exposed to the same general causes of aids/hiv. So any
information package aimed to address the problems of aids should not be discriminative.
[b] In Ghana there is the tendency to think that men are more at risk than women because of cultural reasons. Men are allowed by some traditions to be polygamous [marry more than one woman]. The chances of contracting the HIV virus is therefore logically high than women.
[c] Although no evidences have been established one could think that female genital mutilation is also another potential mode of transmission in some of our communities so one could say that females are more at risk

d] On the whole the pattern of risk vary on the basis of sex and gender and culture however all are at equal risk

2. WHO IS MOST VULNERABLE TO ACQUIRING HIV IN YOUR COUNTRY? MEN, WOMEN, YOUTH, WHAT AGE? WHY ARE THEY MOST AT
RISK?
It is important to note that attitudes ,knowledge of HIV transmission ,the strong will power to consciously avoid contracting the diseases makes the difference in the risk factor.
MEN
[1] Men who are not faithful to their wives but hop from women to another are at risk than their counterparts
[2] Men who use condoms are more protected than those who don't use them
[3] Men who use public shaving saloons are more at risk than those who have personal shaving kits.
[4] Men who patronize the sex trade or[ sex tourism ] are at risk than those who do not
[5] Men who are generally ignorant about the disease.
[6] Men who know about it but does little or nothing to protect them selves. This point is a
serious factor because we frequently see men who should know better fall victim to hiv/aids.

WOMEN
1. Prostitutes who don't insist on the use of condoms are at more risk .
2. Women who are not sexually faithful to their spouses
3. Women who out of poverty are easily lured by richer men for sex are at risk than their counterparts who do not.
4. Ignorant women about the disease.
5. Women who commit abortion with the help of quack doctors are at greater risk .poverty in Ghana is leading some women into this situation. Abortion is not legal in Ghana and coupled by the high cost
of orthodox operation ,is forcing them into the hands of the quack ones.
6. Women who practice female genital mutilation.
7. Women who practice some traditional puberty rites us using the same flint knives and
blades for cutting tattoos, sharp signs, logos, on their bodies are at greater risk.
YOUTH
1. The youth whose parents have the HIV.
2.Those who indulge in unsafe premarital sex
3. The youth who are active in the piercing of the ear fashion. In Ghana this practice has just picked up among students and has received massive patronage. The piercing is either done by friends, barbers who hardly know about sterilization of implements.
4.Students in boarding institutions who share razor blades.
5.Young girls who go in for men of their parent age due to poverty, fun, ego building and
statue enhancement. This is a common behaviour or attitude in Ghana and particularly in junior sec schools senior sec schools and some university institutions mostly the teenage group (13--25) this is the
age range where experimentations and half baked truths are displayed with vigour.

3. WHAT EFFECTS HAS HIV/AIDS HAD ON YOUR COMMUNITY'S CULTURE?
It is very important to note that with the advent of HIV awareness in Ghana it has now become common to hear peer groups making decisions that would not have been made in Ghana initially.1 people now frown upon polygamous
relationships for fear of contracting HIV. Not withstanding the problem of poverty too.

2 Male circumcision which was formally practiced by ordinary persons in the communities are now being done in the hospitals for fear of their kids catching HIV.
3 Presently there are some evidences that parents have now taken task of educating their wards
on general sex issues and AIDS/HIV. This was not the case some years ago.

4 Many people now use condoms in their communities than before . This fact is evident when our team visited [ Moore] a fishing community to interact. They call it the doctors balloon. They know it too well. Some
claimed they use it. The fear of catching STDs and general family planning methods the PPAG (Plan Parenthood Association of Ghana) personnel has been there many times.
5 it is also refreshing hearing and seeing some popular chiefs helping to create HIV Awareness in public media both electronic and print. They include the chief of Kumasi the Ashanti region of Ghana etc. This has
never been the practice in Ghana
6 You are no longer a bad boy or girl if you spoke a bout condoms or have it in the cities now

4. WHAT EFFECTS HAS HIV/AIDS HAD ON LIFE EXPECTANCY IN YOUR COUNTRY?
Generally speaking the life expectancy of the people of Ghana has improved overtime due to improved health facilities diet and some good hygiene and sanitation. Access to heath facilities have also improved. At
least health posts are widely distributed. these have had a great deal in shooting the expectancy level to about 65 for women and 60 for men.
Data obtained at a seminar showed that about 39% of men die at 40 this is less for females. About 13% men die before 60 and less still above 60 years. This shows a serious trend if this data is anything to go by. This trend has not been influenced yet by hiv/aids. The current rate at which people are attacked by HIV/AIDS shows that the life expectancy rate stated above is threatened may reduce it considerably, a state that could be alarming in the near future and that is too bad for a country like Ghana which is struggling to attain a middle income status in year 2020.our team did not have any data really on this effect to support the assertion. We are therefore sitting on a time bomb as put by our Ghana n medical team.

5. WHAT ARE THE ECONOMIC IMPACTS OF HIV/AIDS?

1) HIV/AIDS mostly attack the youth who are the labour hob of this country. This means that productivity levels may collapse in all labour fronts to our disadvantage. We may have shortages in the following areas.
1 banking , education, the legal service, medical service, food production, force, engineering sector, etc

2 It is going to put too much burdens on personal savings which is already difficult to practice due to the economic hardships. Savings may go to health insurances and medical attention

3It is going to increase the dependency ratio dramatically. People who should be working actively may be bedridden at the mercy and care of the aged and the few active working force. This is too bad for economic and
social progress. We shall never reach the m idle income we have focused our attention.
4 A lot of school drop outs may be produced due to HIV/AIDS attack. That is equally too bad for our economy and social life.
5. Famine at its worse peak may be generated. The food producing men and women might have been wiped away by HIV/AIDS .This Is serious to us here because our food producing culture is purely manual and labour intensive
6 great economic burden may be put to bear on our governments. More drugs would have to be imported at the expense of developments 7 sooner or latter we would be experiencing a group of aids/hiv patients who would need homes like the aged and the orphans. Cost of care and running of the homes could be a real task on every source of income and budget
6. CAN YOU BE TESTED FOR HIV/AIDS? WHY SHOULD SOMEONE BE TESTED FOR HIV? HOW EASY IS IT TO GET TESTED
WHERE YOU LIVE? IF SOMEONE IS WORRIED THAT THEY MIGHT HAVE BEEN EXPOSED TO HIV, WHEN SHOULD THEY GET TESTED? HOW LONG DOES IT TAKE TO GET. HIV TEST RESULTS WHERE YOU LIVE?

Any one can be tested for HIV/AIDS when you suspect the disease for easy care and treatment and to help control spread
i when traveling outside the country to make sure he/she is fit to do the task in mind and also to control spread to a large extent employers do it to make sure the individual could be productive. it is very easy to get tested in Ghana. Presently government hospitals have facilities to do the test. Some private hospitals also have it. The only difficulty here is the high cost usually beyond the access to the average poor usually it does not take more than a week to have the result. Usually we are advised to have the first test and the second test
to confirm or otherwise

7. WHAT SHOULD SOMEONE WITH HIV DO TO PROLONG THEIR LIFE?
The victim should stick religiously to the prescribed drugs to live normal life without tension self pity and poised for positive thinking. Should avoid practice or re-infection. That could be too bad. Well balanced diet can do the trick too. This may help to activate some bodily functions regular exercise described by the doctor relax and feel just good. Read positive thinking inspiring books and religious books to fight against negative ideas Regularly visit the clinic for check-ups.



8. ARE INJECTING DRUGS AN ISSUE WHERE YOU LIVE? WHAT ABOUT SHARING NEEDLES? TATTOOING? PIERCING? RAZOR
BLADES?

Yes they are real life issues and great concerns to our government and everybody. An NGO and public health team are all around educating groupings. We wish to inform you that we hardly receive the mails for the
questions. Hence the late response. Besides we have problems with connectivity. Sorry we are late again. It is worth it late than never try

ACCRA ACADEMY ACCRA GHANA

DANIEL BROWN form 2
JOHNSON CHUKUMAN form2


CYRIL VON COFIE [supervised]


3RD GOAL ACTIVITY


Talking about HIV

a. Is it easy to talk about HIV/AIDS with friends? How many of us talk about HIV with our friends? What do
we talk about?

1 The group agreed that it is now easy to to talk about HIV/AIDS with friends because it is a house hold phrase and, the media phrase also. It hits our screens now and then. Nobody feels shy to speak about it. What do we talk about? We talk about cure for AIDS/HIV mostly .As science students we are eager to see a break through in the cure. We also talk about the use of condoms as a sure way to prevent the spread of HIV/AIDS to friends This is because we are predominantly male students in ACCRA ACADEMY. At times we find our selves tracing the origin of the disease at all. This is the only area we hardly get satisfactory answers during discussions. The origin of the diseases is also important to us the science students in this school
.
b. Is it easy to talk about HIV with parents? How many of us have talked with our parents about
HIV/AIDS? If we do, what do we say? What do they say? If we don't, why not?

1The response we had on this question showed that we hardly spoke of HIV/AIDS with our parents. The reasons put up range between getting shy to speak about any thing about sex, parents may think we are spoilt, that we are too young to talk about any thing related to sex. That we may learn everything from school in our biology and social studies classes. It is important to note that the small group of respondents who said their parents spoke about HIV/AIDS were silent on the sex role in the transmission. The parents gave answers to causes and side
effects. They don't want to lose us one of the respondent said.

2We concluded that the problem borders on cultural. Parents still think their ward are too young to discuss any thing about sex, and the wards may not even be aware about what sex is all about so why do we arouse their minds. They may learn it any way. Nobody is taught about having sex. We all grew to know it any way.
c. Is it easy to talk with health workers about HIV/AIDS? Are youth and their questions and opinions
welcome in our local clinics? Why or why not?

1Our respondents said on an individual basis it is difficult to discuss AIDS/HIV with health workers. Because they represent our parents in the hospitals. They could discuss the problems in an organized study programme instead. They felt easier communicating among peer groups and interest groupings.

2 Our clinics and hospitals staffs are friendly and welcomes any body who approaches them on any thing related to their profession. They have time when an appointment is booked.

2. The influence of CULTURE
a. Does your community have any traditional practices that have helped to prevent the spread of HIV? If so,
what are they?

1We have some which certainly helps to prevent the spread of the disease. The only fact is that no research has been done on them to ascertain the fact or otherwise. Covertly we think it plays a good role. The practice which upholds sexual abstinence until marriage. Any female caught doing otherwise may be punished including the parents and the family at large. The parents and all concerned made sure the female kept her self in readiness. The practice is called BRA GRO among the AKANS cultures and the DIPO among the KROBOO cultures. This is still
practiced by small groups now .Rural -urban migration, cultural dynamism, and the growth of cities and villages and intermarriages among others are responsible for the low patronage in Ghana. It is important to note that this practice is only confined to the female sex only. In spite of this control we think it goes a long way to do the trick. After all it takes two to tango and if the female is held constant that is not too bad.

2Another groupings are the Christians who place prominence on sexual abstinence before marriage. This doctrine which we consider a tradition and practice is something that is gaining some grounds in Ghana. Unlike the BRA GRO and DIPO this practice requires both the male and female to abstain from the premarital sex which we think go a long way to prevent the spread of the HIV/AIDS.
3This same group frowns on polygamy in all forms. This is also a good check on transmission and risk factor

b. Does your community have any traditional practices that have helped SPREAD HIV? If so, what are they?
1Yes we have them. These practices may directly or indirectly help to spread the hiv/aids. These are as follows:

a] Polygamy
b] Circumcision both male and female, through the use of a single flint knives/blade which is frequently sharpened when blunt
c] Pre marital sex among the Kokonbas as a tradition that put you in the status of ideal womanhood. Virgin females are not important. They may not be attractive at all.

C How do you know whether a tradition prevents or encourages HIV transmission?
1 When one compares its modus operandi against the way HIV/AIDS is contracted. e.g AIDS/HIV may be contracted by sharing blades/knives that are contaminated. Circumcision of many children by the use of a single
blade /knives exposes the children to the disease. etc

d. Do people in your community talk about these practices, whether they are good or bad for the people
in your area? Why or why not?

1 Yes people talk against these practices at times. There are two categories of people. The group who had had some education against the practice and had been exposed to other friendly alternatives. This people talk openly against them and did well to practice the other alternatives. The other group encourage the practices because they see that as their heritage and culture. This group has little or no awareness. This group may change if they carefully receive education receive ,a friendly alternatives, which do not threaten their culture and heritage and their very existence. This is based on the assumption that culture and traditions are dynamic and that a carefully structured education , information and communication and practice may influence behaviour and attitudes. This is absolutely true if the alternatives are accessible: in terms of distance proximity and financial/cost and time.

3. The influence of ECONOMICS -- Does the economic situation in your country play a role in HIV
transmission? How? What evidence can you give to support your answer?

We all agreed that financial disposition of people could encourage the transmission of the disease. Let us look at this scenario in Ghana. The daily wage in Ghana is 3500-4000 cedis. The cost of 3 condoms cost between 2500-3500 cedis. Any well meaning person may not be able to maintain this life style for long. Some condoms cost as much as 8000 cedis- 18 000 cedis. [the skinless, and the flavoured] condoms.
2 Poverty play some role too. Prostitutes parade around because of financial constrains to a large extent. Men patronize the trade not necessarily financial ,but uncontrolled sexual drive which is a physiological drive like hunger or fun and a change of "environment". T

4. The influence of GOVERNMENT
a. Does your country have a policy towards HIV/AIDS? Can you tell us a little about it?

1The government of Ghana has declared HIV/AIDS a state of emergency
2The government has voted 15% of national budget to aids control and prevention.
b. Does your government do anything to affect the prevention or treatment of HIV/AIDS? If so, can you
give us an example of what it does?

1 The government has voted 15% of national budget to aids control and prevention

2 IT sponsors some of the HIV/AIDS Programmes

5. The influence of RELIGION

a. How do your local churches, mosques, synagogues, etc. feel about HIV/AIDS? How do you know what they
think about HIV/AIDS?
1Unfortunately some of our religious groupings associate HIV/AIDS to sex only and looks at victims as highly immoral.

2some even think it is a deliberate catastrophe from God. A good sign of the end time apostolate/dispensation

3These statements are frequently made in churches.

b. Are HIV and AIDS discussed at your local church etc.? What is said about HIV/AIDS? What is said
about people living with or affected by HIV/AIDS? Do these words affect the prevention of HIV or the
treatment of AIDS sufferers? If so, how?

1 This is discussed during youth meetings. resource persons are invited .
2 victims are mostly not treated differently. Faith in God and prayers could provide healing for all diseases including hiv/aids.

3 prayers are said for victims at healing services

4 This have little impact or no impact in prevention

5 The only area relevant is the focus on sexual abstinence.
c. Is your local congregation doing anything to prevent HIV or diminish the effects of AIDS? If so,
what?

1 Little is done. except the organization of forums for the discussion of the disease for the youth in the church at certain times. as social programmes
2 Polygamy is discouraged

d. Do you feel that your local religious leaders should be doing more about HIV/AIDS? If so, what
ideas do you have for them?

1 The pulpit should be used to discuss HIV/AIDS too. where inadequate resource persons should be used
2 HIV/AIDS should also be seen as a developmental problem and not religious only.

3 Frantic efforts should be made to educate members on HIV/AIDS contraction and effects. This is because sooner or later the churches will be full of victims and church collections may diminish. To the leaders dismay. Church projects may come to a halt too .Church activities may be limited to burials each week if a serious look is not taken by our church leaders.
6. Could someone acquire HIV from a blood transfusion in your country? Why or why not? How do you know
(what authority did you use to get the information for your answer)?

1 presently this phenomenon is very slim because every blood sample is carefully screened. This answer was given by one of our medical team we interviewed at KOLEBU Hospital in Ghana. HIV/AIDS DIVISION. IT was further explained that there could be some human and technical lapses that makes it possible to get AIDS/HIV. BOTH ARE REALLY VERY VERY SLIM.
As before, please let us know what you liked most about this activity, perhaps what you learned.
PowerPoint presentations would be great, as would websites. Try taking pictures with the people to whom
you spoke -- clinic workers, traditional healers, religious leaders...we'd love to see pictures!
1WE learnt that:
a] Condoms must be made affordable and accessible to all if hiv/aids should be prevented
b] Every body must make conscious effort to stop the spread of aids/hiv
c] Scary hiv/aids motion pictures must accompany the general education method
d] Education information and communication should aim at the group of people who don't really care about catching aids/hiv. For this group aids/hiv is as any other disease. Every death is death which ever method is
acceptable
..we shall send our pictures soon